You are here

2018 Top Ranked Wealth Management Firm in Florida
2018 Top Ranked Wealth Management Firm in Florida
Submitted by Occidental Asset Management, LLC on February 26th, 2018
By Nick Maratta, MBA, CFP®
Occidental Asset Management, LLC (Your Mental Wealth Advisors™) has been named one of the top 11 Financial Advisor & Wealth Management Firms in Florida. To read the full review/article click here: https://www.advisoryhq.com/articles/best-financial-advisors-in-florida/#Occidental-Asset-Management-Review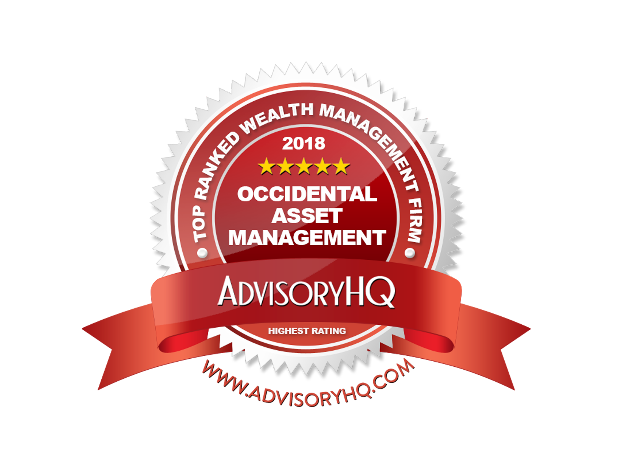 We are honored to be among the Top Ranked Wealth Management Firms in Florida. We have strived to be a trusted partner and thought leader within the financial services industry and our local communities, by helping people transform their financial lives and achieve their goals through Financial Life Planning and the introduction of financial psychology. It is our belief that the best way to take care of yourself, your family, and your favorite causes begins with a healthy relationship with money and a sound blueprint for financial success.
The AdvisoryHQ article mentions what they value about Occidental Asset Management:
Fee-only Fiduciary
Unique focus on the psychology behind effective money management
Financial Planning: Cash flow projections, business succession, retirement analysis, Social Security planning
Trust & Estate Planning: Analysis and review of tax implications, coordination with tax accountants and estate attorneys
Portfolio Management & Investments: Portfolio review and recommendations, wealth strategies, asset allocation, diversification
Charitable Planning: Coordination with philanthropic goals and estate plan, donor advised funds
Tax Coordination: Retirement plan optimization, account distribution strategies, coordination with attorneys and accountants
Please call us at 1-866-520-4985 or visit www.occamllc.net to start a conversation to see how we may help you with your goals.
AdvisoryHQ uses a multi-step selection methodology for identifying, researching, and generating its list of top ranked firms. AdvisoryHQ's review and ranking articles are always 100% independently researched. It is important to note that this award was based upon an independent analysis of multiple criteria of the Firm. Occidental Asset Management did not pay or provide any compensation in connection with the AdvisoryHQ award. For specific details about AdvisoryHQ's methodology for this recognition, please click on the following link: www.advisoryhq.com/all-topics/#Methodologies. The AdvisoryHQ award should not be construed as an endorsement of the firm's advisory services. Third party rankings and recognition from rating services are no guarantee of future investment success. Please contact us for a copy of Occidental Asset Management's Form ADV part 2A or https://www.adviserinfo.sec.gov/.